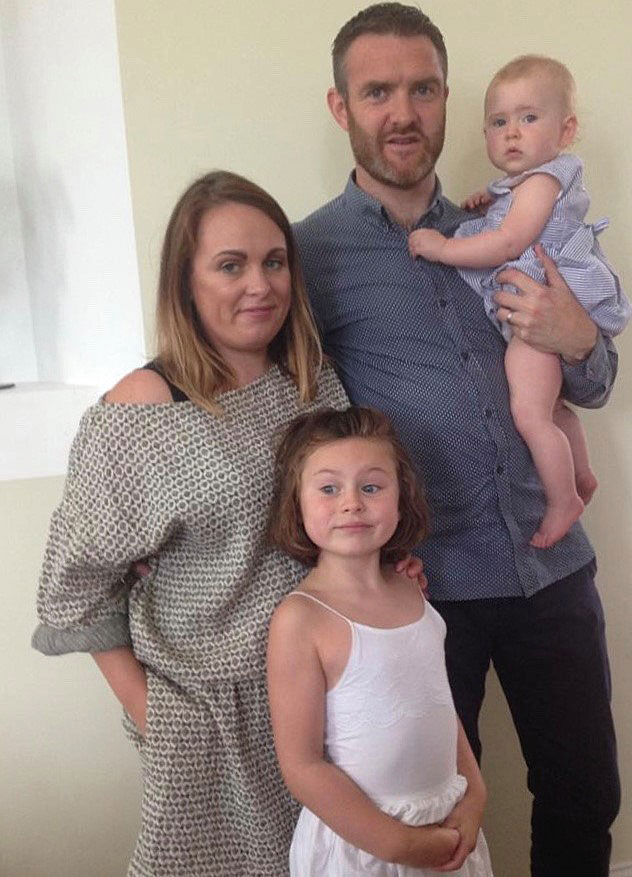 Brendan and I met 19 years ago. Like most Irish romances ours started in the local pub. I'd had my eye on Brendan for ages! Then one night, a week after my 21st birthday, I was told by a 'reliable source' that Brendan would be in our local pub, so I made my way down determined to make him mine, and that I did. For years we argued over who made the first move. I maintained it was him and him me. A few nights before he died, I settled the argument and confessed all…It was me who made the first move and it was the best move I ever made.
In 2010 we had our first girl, Niamh. We married in 2013 and had Fiadh our second girl in 2015. A house full of girls, Brendan was in his element. We were a young family with our lives ahead of us, the world was our oyster. However, that was set to change.
On New Year's Day in 2016 Brendan began to feel unwell. It started with heartburn but progressively got worse. Brendan worked in Dublin mid-week. One morning he rang me to say he had felt so unwell during the night that he thought he would have to call an ambulance. At this stage I began to worry as this wasn't like Brendan, so we arranged an appointment with his GP for when he was back in Cork. His GP diagnosed an ulcer and prescribed various medications.
Nothing worked and over the next couple of weeks, Brendan got worse. He was vomiting daily and had started to lose quite a lot of weight. Finally, on Sun 21st of Feb (three days after I returned to work from Maternity leave), we went to South Doc and insisted that something is done.
The GP that night took one look at him and immediately had him admitted to hospital and by 3 pm the following day we were told that he had four tumours, one on his lungs, liver, kidney and pancreas. The tumor on his kidney was 13cm in size.
It took weeks for an official diagnosis to come through. It was Melanoma. Stage 4 Melanoma. We couldn't believe it Skin Cancer; Brendan had no moles. So how could he have skin cancer? But this was good news. I remember at the time his wonderful oncologist telling us that he did a little dance around the office when the diagnosis came through as it meant there were treatment options available to him and a lot of work was being done in the area of Melanoma.
We got even better news a couple of days later when they confirmed that Brendan's Melanoma was B-Raf positive which meant he could start a targeted therapy that targeted this mutation. It was like a miracle, within 24 hours he started to feel better, he started eating again, and was discharged 2 days later.
For 6 months our lives went back to normal, Brendan was able to continue to work, play soccer and we even went on a two-week holiday to Spain with family. Then in September, we learned that the treatment had stopped working. Despite this, we were still quite optimistic as he was offered a place on a trial, but unfortunately, Brendan got really sick, really quickly. His tumours doubled in size again in a matter of weeks, so he needed something fast-acting. He underwent a couple of sessions of chemotherapy which meant that he was no longer able to partake in the clinical trial.
But we had other options, an immunotherapy that had good response rates for Melanoma was now licensed in Ireland, and despite some initial access issues that we eventually overcame, Brendan started this treatment in November.
In Christmas 2016, Brendan was admitted to hospital for tests as he began to feel unwell again, but to our surprise the results were good, the immunotherapy was working. We were so happy; we had been given another opportunity. He also underwent radiation, on Christmas week, which was supposed to give the immunotherapy a boost, which hopefully would reduce his tumours even further. We had a fantastic Christmas that year, conscious the whole time that perhaps it could be our last as a family. And it was.
On Valentine's Day, we learned that the immunotherapy had stopped working. However, we were still optimistic as there were still options available to us. He underwent more chemotherapy but unfortunately, this didn't work so it was decided that he would re trial his original targeted therapy as there was some evidence to suggest that this may be effective albeit for a very short time at best.
In May we went to Parknasilla for our 3rd anniversary. As we were leaving, I knew Brendan wasn't well, but he was determined to go. As we arrived, I took Brendan's temperature in the car park, it was after spiking. I wanted to go home but Brendan wouldn't have it. His exact words were 'if we have to go home now Clíona this will kill me' So we stayed. We rang his oncologist who faxed a prescription to the hotel. We drove to Sneem where a lovely pharmacist opened on a Sunday evening just to get us the medication. We stayed for two nights; Brendan was very ill but looking back now I think he knew we wouldn't celebrate our anniversary again.
A couple of weeks later we met with his oncologist to discuss his latest scan results. As soon as we walked into the office, I knew the results were going to be bad. They were. His tumours had significantly increased in size and were after spreading further.
We had to cancel our holiday as he was being admitted to the hospital for a blood transfusion and was going to start a new treatment, a combination of two immunotherapies. Unfortunately, his Melanoma, this time was far too aggressive, and he died in Marymount Hospice just two weeks after his first infusion. He died the day before Fiadh's second birthday. He was only 37.
On July the 10th, it will be Brendan's 3rd anniversary. It's hard to believe that it's been three years since I last spoke to him since the girls got to hug him. It's hard to believe that both my girls have celebrated another two birthdays, two Christmas's without their dad.
Brendan died from cancer that is by in large preventable. Brendan's death has left an unfillable void in all our lives. He will never celebrate another birthday with Niamh & Fiadh, he'll miss Fiadh's first day in school in September and he won't get to walk either of our girls up the aisle. It's hard to believe that a few simple steps such as the Sun Smart Code can significantly reduce one's risk of developing Melanoma later in life. To anyone reading this, please think twice about going outside from April to September without taking the necessary measures to protect yourselves and your children. Trust me you don't want to go through what we have especially when it can be avoided.
When I look back, I feel we were lucky in some respects, we had a fantastic team looking after him. We were also lucky that Brendan was diagnosed when he was. So much had been done in the world of Melanoma. I remember reading his medical notes a couple of months after his diagnosis, before we received the official Melanoma diagnoses, it was expected that Brendan would only live for 3 months. He lived for 15 months and this was all thanks to the new treatments that had been developed. But it's not enough, like Brendan there are so many people still dying from this horrible disease and that's why it's so important that research continues so we can find better and more effective ways of treating Melanoma.