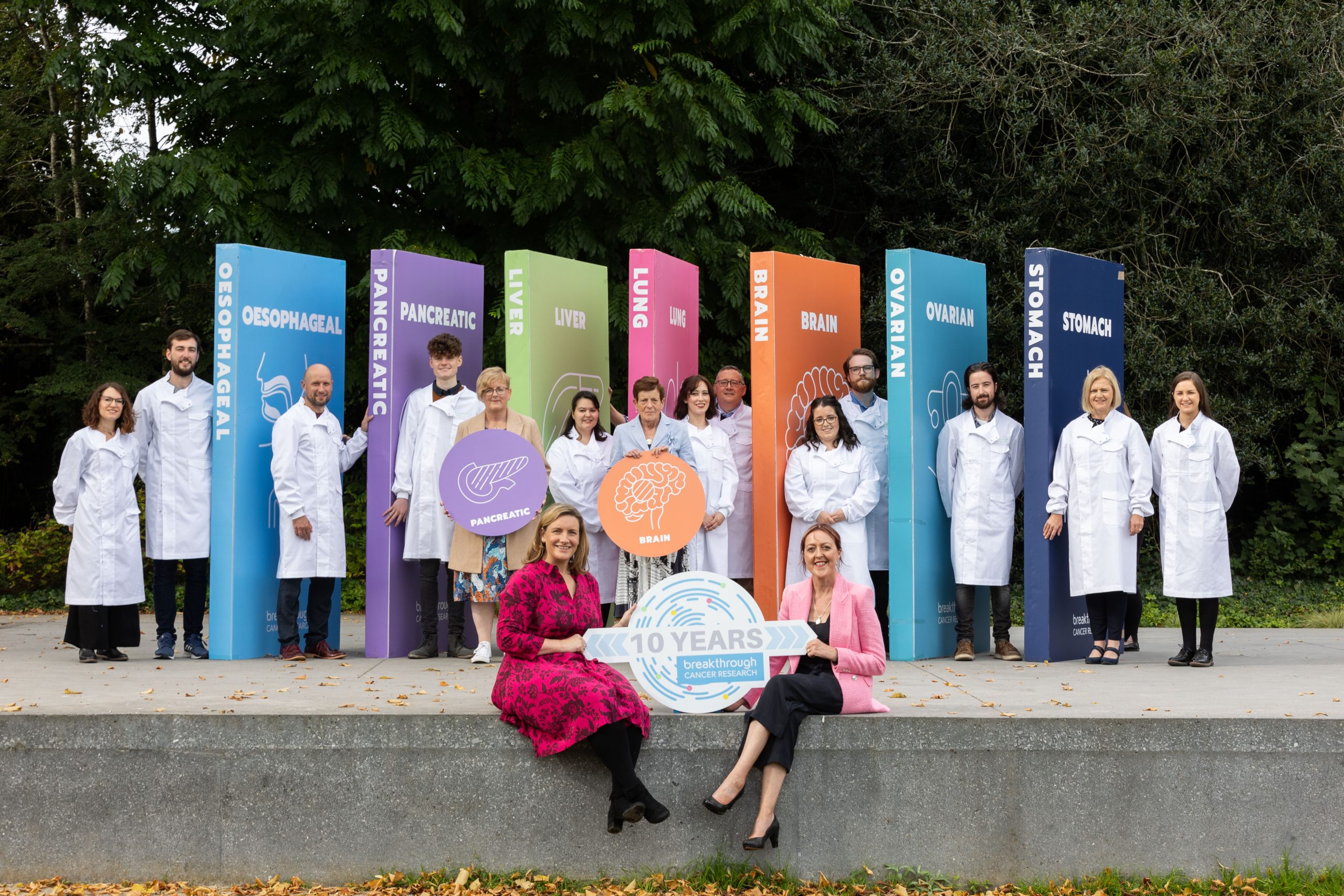 On World Cancer Research Day, and as the charity celebrates ten years of research excellence, Breakthrough Cancer Research has announced an additional €2 million injection in research funding to find urgent new treatments and improve early detection for Ireland's seven most lethal cancers.
Many patients with these cancers – lung, pancreatic, oesophageal, ovarian, liver, stomach and brain – have a lower chance of survival as they are typically diagnosed late when the cancer has already spread and it can therefore be very difficult to treat.  Those diagnosed early (though few) do relatively well.  These cancers are currently under-resourced according to Breakthrough and poorly served by current treatment options, albeit that combined, they cause nearly half of all cancer deaths in Ireland each year.  It is also expected that the incidence of these cancers will more than double in the next 30 years.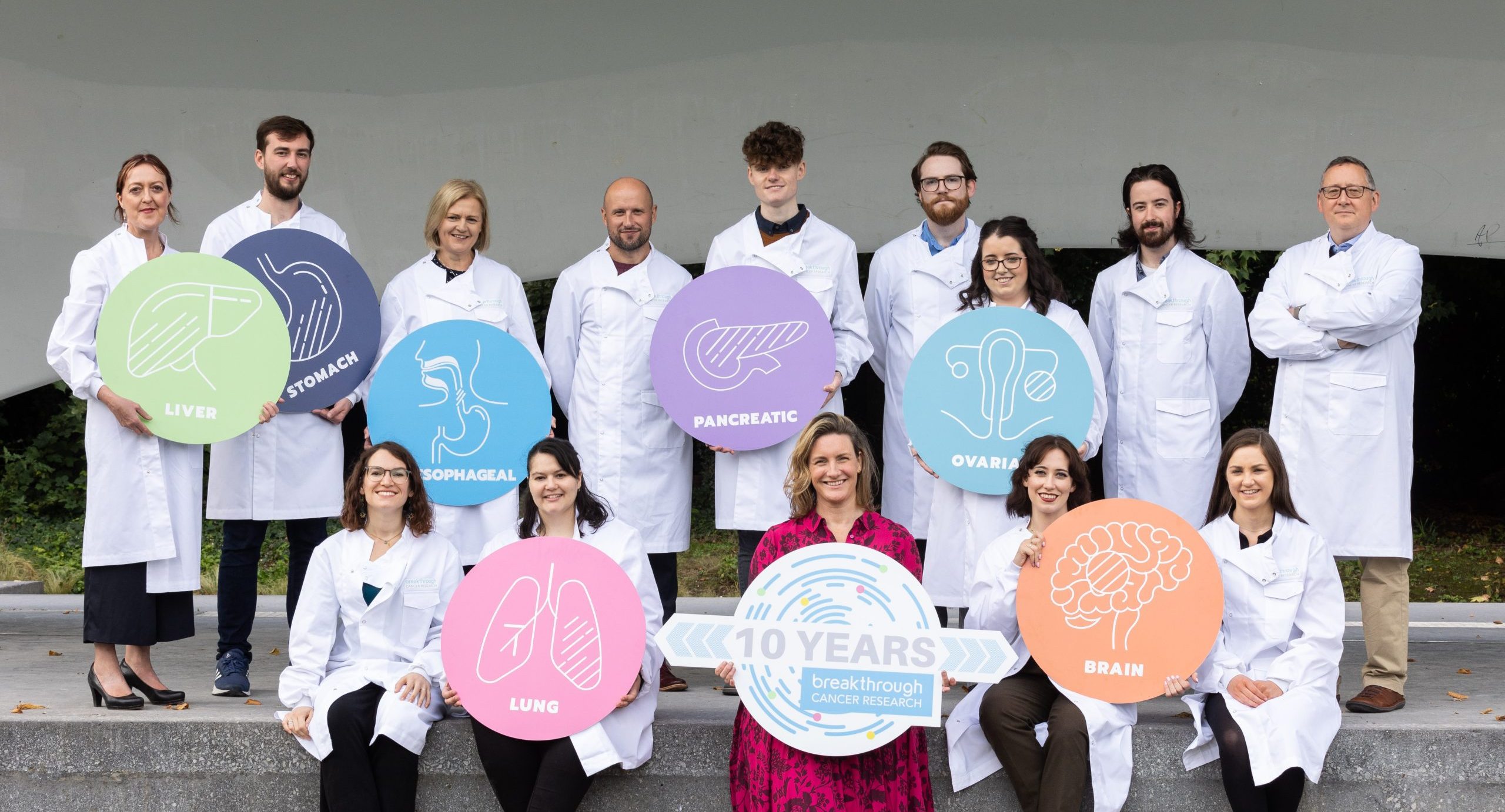 The funding, which will be allocated to researchers immediately and over the coming six months, was revealed in the Irish medical research charity's new 5-year research strategy 'Making More Survivors'.  This strategy highlights Breakthrough's vision to create 100% survival for 100% of cancers by investing more research funding into the cancers that need the greatest improvement, those that cause the most deaths, and by reducing the time it takes for lab discoveries to get to patients.
Breakthrough has already successfully brought 8 new treatments from the lab to the clinic.
Commenting on the new strategy, Orla Dolan, CEO of Breakthrough Cancer Research, said "As we mark 10 years, it's important for us to look back and see what has worked, so we can have an even greater impact in the future. Breakthrough has had a lot of success to date, bringing eight new treatments successfully from the lab to the clinic. We know first-hand that research works and saves lives. Now, as we look to the future with our 5-year research strategy, we are narrowing our focus on the cancers that cause, and will cause, the most deaths in Ireland – the cancers that are currently significantly under-researched – so that we can have an even greater impact. Today, I am therefore delighted to announce an additional €2 million injection of research funding for these cancers.
'Hopefully this offers new hope for people who have been told they have a terminal disease. Research is the only way we will make more survivors. There are new discoveries and new ideas being developed every day that are just waiting for funding. New knowledge means new ideas and leads to better ways to detect and treat cancer.
My own father, a surgeon who founded Cork Cancer Research Centre, died from cancer so I know first-hand that the worst moment is not when you are told you have the disease but when you are told there is nothing left to try. The treatments available will not be enough to save your loved one. Its devastating.  But we are not powerless to change it – to take away that day.  Research will find better ways to detect cancer earlier and treat cancers more effectively.
It is heartening to meet so many survivors of cancer today, more than could have been imagined just 20 years ago. It is inspiring to meet those who lives have been transformed by research we have funded. It is what we are most proud of here and what we want to see more of in the next decade.
At Breakthrough, we are confident that through our research, we will make more survivors of the low survival cancers too.  We are building research expertise nationally and facilitating innovation to transform cancer care. We are accelerating the translation of lab discoveries into new, better, kinder and smarter diagnostics and treatments. Our vision is bold. We will fund fast and fund smart to help deliver 100% survival for 100% of cancers.'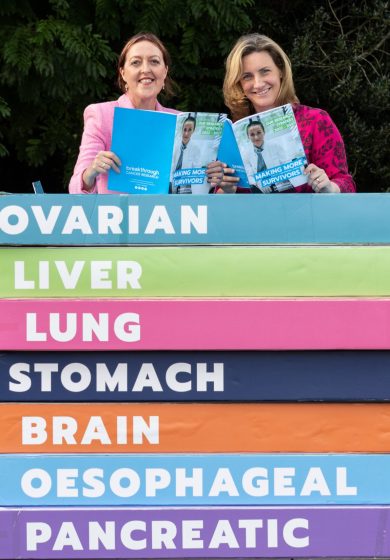 Currently over 4,000 people die in Ireland each year from the seven most difficult to treat cancers that Breakthrough Cancer Research will focus more research funding on. Lung cancer, which is the number one cause of cancer deaths in Ireland, accounts for one-fifth of invasive cancer deaths annually, more deaths than from breast and prostate cancer combined.  Pancreatic cancer has a 5 year survival rate of just 14%. Ireland has the second lowest Ovarian cancer survival rate out of 24 European countries.  The other poor prognosis cancers that the charity will focus its research funding on are Oesophageal, Liver, Stomach, and Brain cancer, cancers all of which have survival rates of just 18% to 31%.
Prof. Deirdre Murray, Director of the National Cancer Registry of Ireland said, 'In their new research strategy, Breakthrough Cancer Research is targeting those cancers whose 5-year survival rates, despite improvements in recent years, remain well below average.  As we know that the incidence of most of these cancers (5 out of 7) will more than double in the next 30 years, we urgently need better understanding of the causes of these cancers, ways to detect them earlier, and more optimum treatment approaches.  This all requires greater research investment so the boost in funding from Breakthrough is very welcome.'
We have already greenlit several projects and have committed an additional €2 million in addition to our current projects and 80% of our annual research funding will be targeted to these 7 cancers over the next 5 years. Some of these include investigations into how blood vessel growth in non-small cell lung cancer affects resistance to chemotherapy; a novel therapeutic to enhance chemotherapy and radiotherapy sensitivity in pancreatic cancer; how understanding more about the biology of oesophageal cancer in order to overcome drug resistance and find more effective treatments, development of carbon based nano – platform for cancer therapy, rehabilitation of people following treatment for brain tumours, and exploring methods to improve post-operative cognitive function among cancer survivors.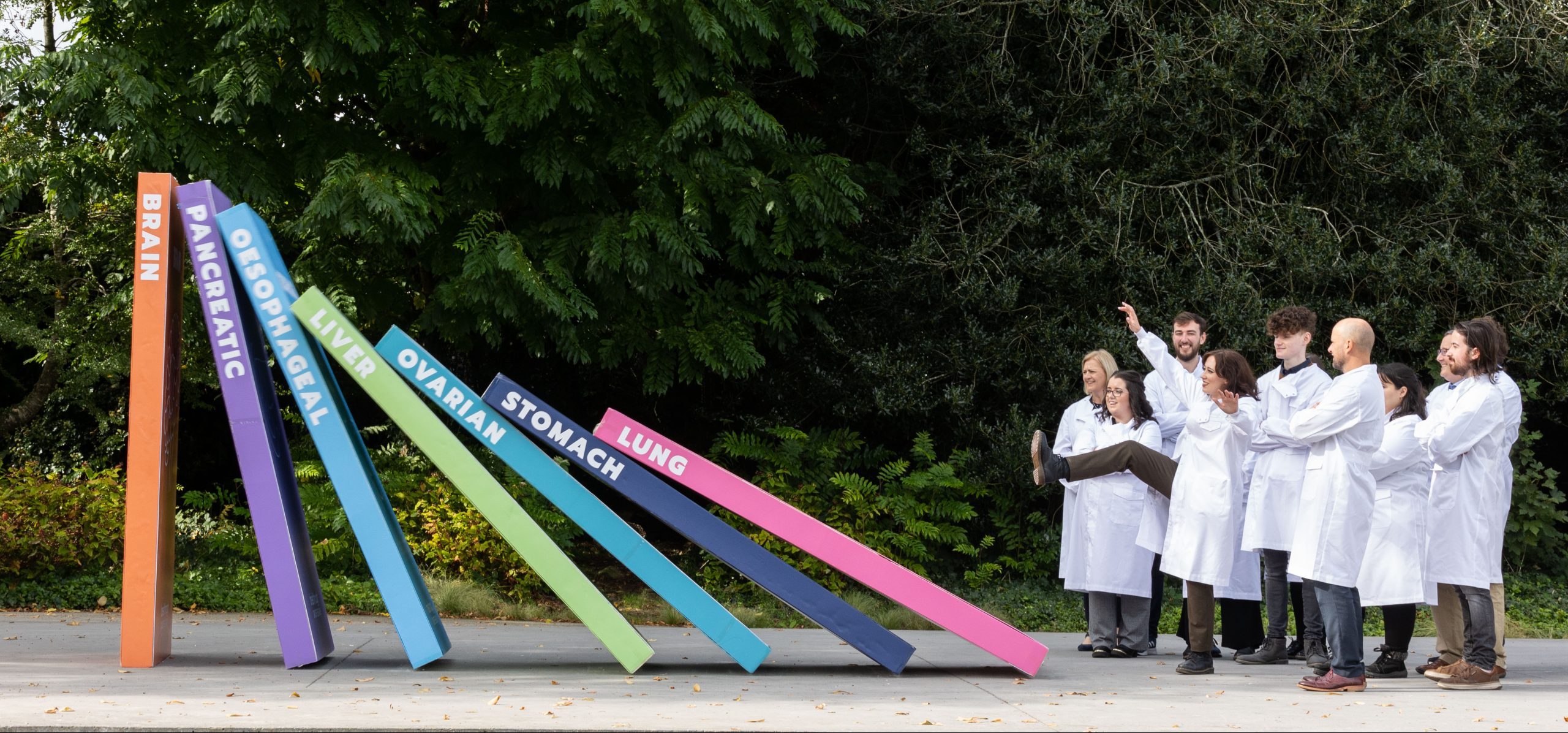 TheAllCaN Programme grant (2023-2027) will fund a network of the best scientists and clinicians at institutions across the Island of Ireland, to develop new and innovative approaches to improving oesophageal cancer outcomes.
Ian O'Callaghan, a 50 year old father of two from Midleton Co. Cork was first diagnosed with malignant melanoma at the young age of 33.  After multiple recurrences and surgeries Ian was facing a very bleak prognosis.  Ian joined a Breakthrough Cancer Research and pharma funded clinical trial with Cork Cancer Research and Mercy University Hospital in 2017 led by Prof. Derek Power that combined Electrochemotherapy (ECT) and immunotherapy and today he is now cancer free.  Commenting Ian said, 'I was part of an experimental research trial supported by Breakthrough Cancer Research, which is certainly one of the reasons I am here today.  I'm delighted to see further investment announced in research to find new treatments for the cancers that cause the most deaths, the ones that need most support!  The more research that is done, the better the treatments will be and there will be more survivors like me.'
Professor Derek Power said, 'Research gives us more options to offer patients and ultimately saves lives.  I am very grateful to Breakthrough Cancer Research for helping fund experimental treatments like electrochemotherapy and immunotherapy, which has resulted in patients of mine now being disease free. With more investment, we can save many more lives.'
You can view and download Breakthrough Cancer Research's 5-year strategy here:
Statistics: *National Cancer Registry
Donate Now