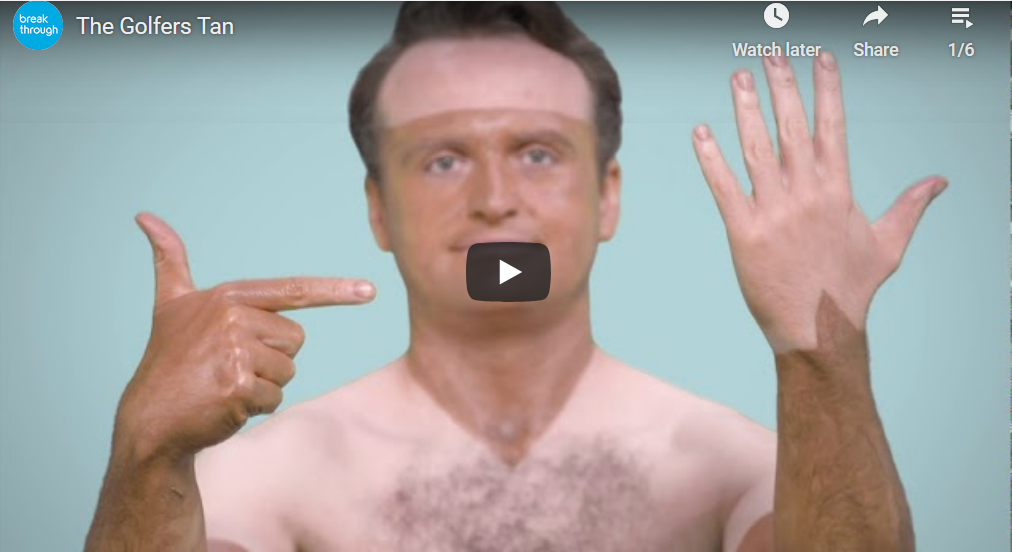 Male golfers, cyclists, runners, watersports enthusiasts, GAA, soccer and rugby players, farmers and outdoor workers are amongst those being warned to take extra precaution against the sun in a new 'Man Tan' skin cancer awareness campaign by Breakthrough Cancer Research (Breakthrough), in association with Healthy Ireland's SunSmart initiative.
Ireland has one of the highest mortality rates for melanoma in Europe and those that spend time outdoors regularly are at extra risk, with outdoor workers accounting for almost 25% of those that are diagnosed alone.  Melanoma also kills more men than women, and it's the fourth most common cancer in men.
Breakthrough says that it's time for men to take sun protection more seriously as it's a 100% preventable disease. They have launched light-hearted films with a deadly serious message: a warning that tanned skin is damaged skin and the only safe tan is a fake tan.
The campaign, targeted at outdoor sportspeople and outdoor workers, particularly in construction and farming, is supported by ambassadors including Home of Year judge Patrick Bradley and rugby star Luke Fitzgerald. It draws attention to the phenomenon of 'patch tanning' where areas not clothed or sufficiently covered by high SPF sunscreen create a pattern that marks out skin that has been put at risk. The launch films target golfing, cycling and surfing; individual activities that have seen an uptake, while outdoor team sports have been disrupted for the past few months.
A recent survey by Breakthrough found that 73% patch burn regularly, which is where the danger lies, so the films highlight the spots that are usually missed by outdoor workers and athletes, including the back of the neck, ears, and top of the forehead (where peaked caps provide little protection), the tip of the nose, the lower legs, and the upper arms (where teeshirts and shorts ride up).
Breakthrough is calling on people who spend time outdoors regularly to not be complacent, to increase their UV awareness, and to be more vigilant when applying sunscreen, to achieve 100% coverage.
Commenting, Orla Dolan from Breakthrough Cancer Research said, "Regular exposure to the sun's invisible UV rays puts outdoor athletes and workers at a high risk of developing skin cancer.  We have seen some very nasty cases of basal cell carcinomas and melanoma in areas that are exposed to the sun regularly, like the neck, ears, and lower legs, especially in men.  In fact, almost one in four skin cancer deaths are from outdoor workers alone in Ireland. 
"It's time that these risk groups get more serious about skin cancer prevention.  As it's near impossible for many of these groups to fully cover up or keep in the shade, as recommended, it's even more important that they are UV aware (over 3 is dangerous) and apply a high factor SPF (over 30) covering all areas of their skin, even when it's cloudy.  We have put some helpful tips on our website to help people become more SunSmart and UV aware".
Home of the Year judge and architect Patrick Bradley is among the celebrity supporters raising awareness with outdoor workers. "Healthy and outdoorsy people don't often think about sickness affecting them.  On construction sites, we always think about safety precautions such as hard hats and vests, but we also need to take skin protection more seriously, especially when the UV is high and not just when it's really sunny.  This is a disease that can affect anyone.  I'm raising awareness about the dangers of patch tanning – those strange tan lines that highlight where you haven't covered up enough –  and the need to be sun smart for those of us who work or play sports outside."
The 'Man Tan' campaign is part of Breakthrough's overall national awareness campaign 'Let's get to 100% Together', which warns about the importance of protecting skin from UV damage 100% of the time and the need for new treatment options in a strive to achieve 100% survival from the disease.
Breakthrough is helping improve the survival outcomes for those already diagnosed. Last month the charity gave the green light to an exciting new skin cancer research project.  The treatment uses calcium instead of chemotherapy and could be available for patients in a clinical trial, initially in Cork, as early as November.  The hope is that this non-toxic non-surgical but highly effective treatment can be delivered to outpatients.
Share or tag the films to someone you know who needs to be warned about the danger of the Man Tan. For more see www.breakthroughcancerresearch.ie/100percent
Let's #makemoresurviors Let's get to #100percenttogether
ENDS:
About the UV Index
The UV index quantifies the level of UV from the sun at the surface, the higher the UV index the greater the risk of skin damage. When the UV index is 3 or above you need to protect your skin.
About Breakthrough Cancer Research
Breakthrough Cancer Research (Breakthrough) is an Irish medical research charity focused on cancer.  They aim to disrupt cancer's future and save lives, one research breakthrough at a time. Breakthrough works with scientists, researchers, and clinicians throughout Ireland and around the world to tackle the most difficult to cure cancers and deliver better futures sooner for those diagnosed with the disease.  The researchers they support currently have a particular focus on skin, ovarian, malignant melanoma, lung, pancreatic, and oesophageal cancers.  Over the past 20 years, they have brought 8 treatments successfully to a clinical trials.  "Cancer is clever but we are ingenious".
Press Queries To
Niamh Murphy | Managing Director | ETC PR & Marketing | The Events, Tourism & Communications Agency | 087 0617705 | niamh@e-t-c.ie
Donate Now