October, 3rd 2023: Minister Simon Harris announces funding of €5 million for researchers tackling major challenges under the latest round of the Irish Research Council's Enterprise Partnership Scheme and Employment-Based Postgraduate Programme.
We are delighted that 4 of the 50 projects announced today are in partnership with Breakthrough Cancer Research.
Announcing the latest IRC enterprise programmes' awards, Minister for Further and Higher Education, Research, Innovation and Science, Simon Harris TD, said: 'I am delighted to announce the latest projects to be selected for funding. These co-funded programmes train early-career researchers for the diversity of employment opportunities in industry, the public sector and the non-government sectors.
It's exciting to see the broad experience and benefits that these partnerships will give to researchers and their enterprise-employer partners. These collaborative projects will allow researchers to gain valuable experience in the early stages of their careers, while employers and enterprises will benefit from having fresh perspectives, expertise, new ideas and knowledge.'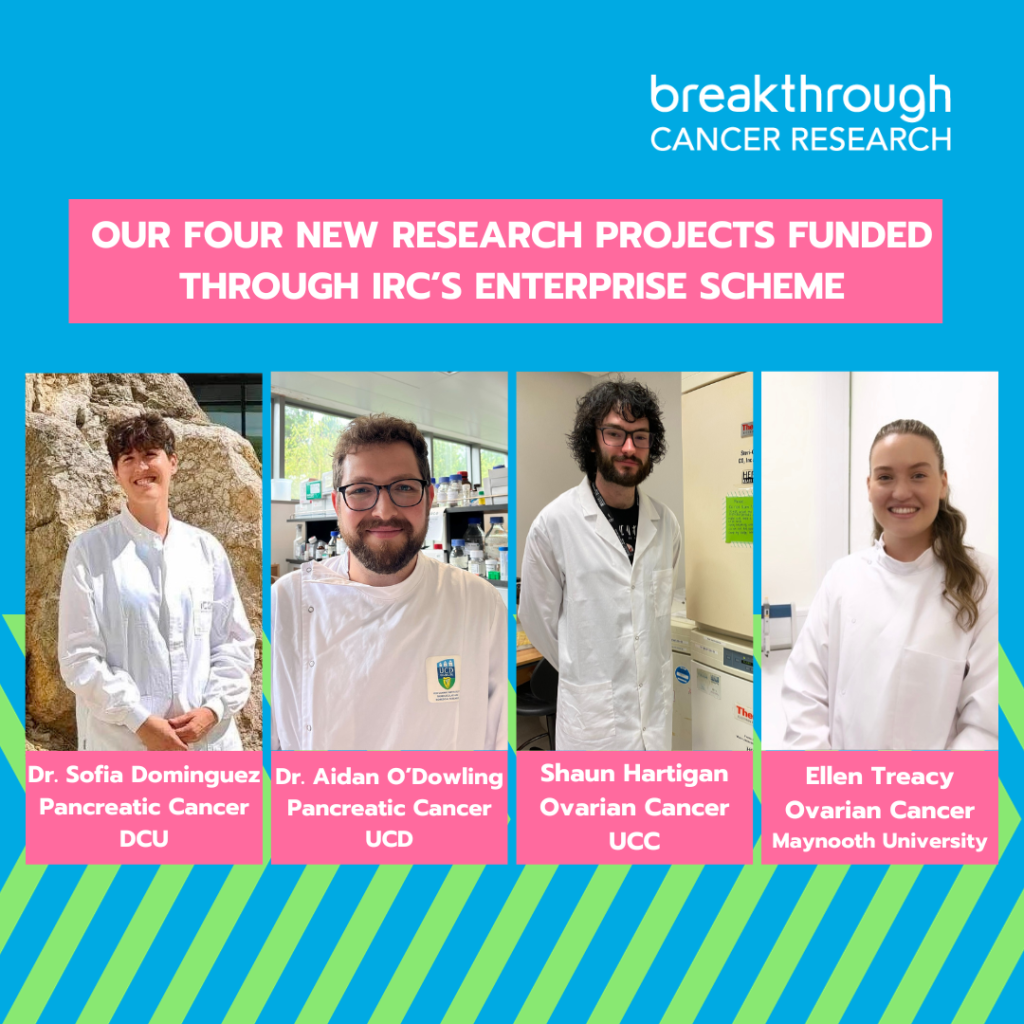 The four new projects awarded funding in partnership with Breakthrough Cancer Research are:
Dr. Sofia Dominguez, a post-doctoral researcher in Dublin City University, working on Pancreatic cancer.
Shaun Hartigan a PhD student from University College Cork, working on Ovarian cancer.
Dr. Aidan O'Dowling, a surgeon working in UCD and St. Vincent's University Hospital, researching Pancreatic cancer.
Ellen Treacy, a PhD student in Maynooth University, working on Ovarian cancer.
Commenting on today's announcement, Frances Drummond, Research Manager at Breakthrough Cancer Research, said: 'The opportunity to partner with top-class researchers through the IRC's enterprise programmes is of enormous value and benefit to Breakthrough Cancer Research. Working with excellent researchers who can apply their dedication, skills, expertise and time to finding new breakthroughs in cancer diagnosis and treatments meets a vital need for our organisation and for society. We commend the Irish Research Council and Ireland's research community on the latest partnership awards.'
Donate Now