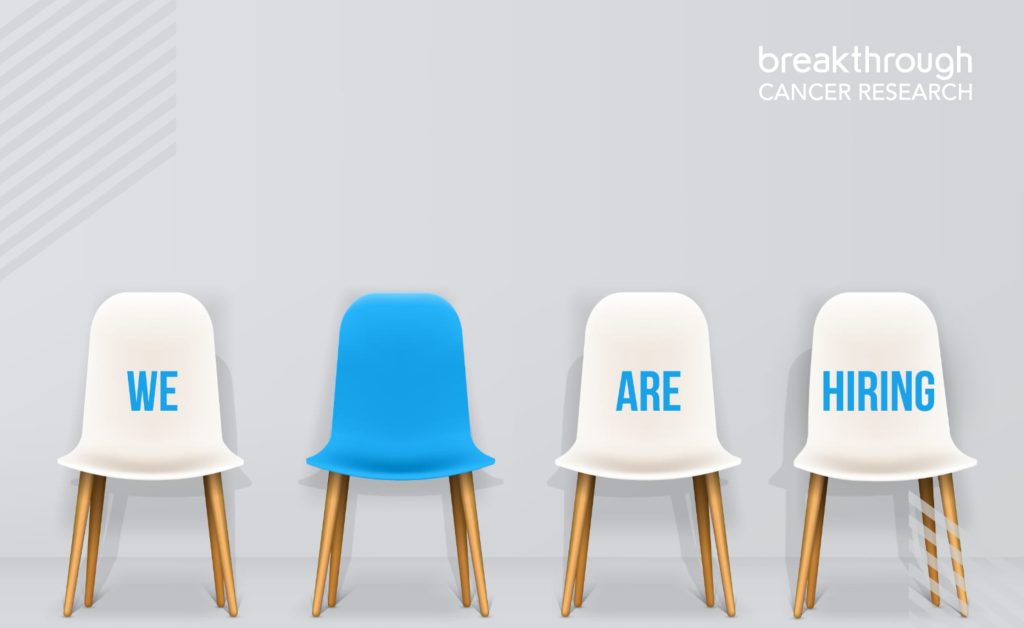 Breakthrough Cancer Research is a proactive and driven cancer research charity and funder of patient focused research. We inspire and enable financial support for exceptional research into cancer, leading to more effective treatments for patients in Ireland and internationally. We focus on: funding world-class cancer research into poor prognosis cancers, which are poorly served by current treatment options, facilitating collaboration between scientists and clinicians across Ireland and internationally and translating lab discoveries into new effective treatments for cancer patients. As patient focused organisation we passionately believe in keeping the public up to date with research developments and the future breakthroughs which will impact cancer care. The stakes in our mission are so great and we cannot become emotionally removed from those patients and families who are counting on us, so we seek a passionate, driven and empathetic Research Officer to join our growing team.
If you have a passion for making a difference, if you love science but would prefer to enable research more than work at the lab bench, then this could be the position for you.
Overall Job Description
Salary: Competitive (depending on experience)
Hours: Full Time
Period: Fixed term for 1 year with possibility of extension
Starting date: August 2023
Holidays: 24 days
Reporting to: Research Manager
Main Duties and Responsibilities include:
Purpose of the Post – To administer grant funding programmes and work with the research team to continue to build Person and Public Involvement (PPI) capacity through awareness raising and training a network of PPI contributors who are people with lived experience / family members / supporters. 
Job Specifications – The successful candidate will:
Carry out the day to day administration of Breakthrough-funded research grants;
Liaise with host academic institutions, grant holders – including scientists and clinicians, and other healthcare professionals and other funding bodies;
Carry out grant peer review processes;
Co-produce and co-deliver training for people with lived experience / family members / supporters to become involved in PPI at all levels: from one-off consultation and engagements to becoming peer researchers;
Support the development of PPI 'ambassadors'
Develop local networks of PPI contributors;
Identify and deliver training for service providers and researchers in what PPI is and how to engage effectively;
Assist with the organisation of workshops, symposia and any Breakthrough hosted conferences;
Undertake other work related to research administration and to perform tasks necessary to achieve the overall objectives of the Research function and organisation.
Work alongside fundraisers to develop educational materials relating to research.
Support Communications team for website/materials content.
Produce accessible summaries of Breakthrough's research and convey the value of research to a lay audience.
Assist in analysing and reporting the outputs, outcomes and impact of research funded by Breakthrough Cancer Research. 

Skills, competencies and/or knowledge –
Excellent administration skills;
Excellent project management skills;
Experience in coproduction of materials with various stakeholders and PPI;
Excellent facilitation skills;
Strong experience in the development and delivery of training and mentoring;
Strong interpersonal skills with the ability to develop and maintain constructive relationships with people with lived experience, family members/supporters and other key partners and stakeholders;
Strong organisational and planning skills;
Strong team working skills as well as ability to work on own initiative;
A high degree of professionalism. 

Essential qualifications, skills and experience –
Minimum of 2 years-experience in a similar research support/PPI position;
Third Level Qualification in a scientific discipline;
Experience of the research administration
Experience in coproduction, PPI facilitation or similar;
Experience in building and supporting networks;
Experience in the development and delivery of training and mentoring;
Excellent analytical written and verbal communication, presentation and ICT skills;
Excellent organisational skills including a proven ability to work individually and as a member of a dynamic team;
Project management experience;
Knowledge of the Irish health research system and academic landscape;
Commitment and enthusiasm to the vision, mission and values of Breakthrough Cancer Research.

Other requirements –
Satisfactory references.
Flexible working hours incl. occasional out of hours

**Application Process Information
Competition specific selection process: Short listing will be carried out on the basis of information supplied in your curriculum vitae and letter of application, at the closing date. The criteria for short listing is based on the requirements of the post as outlined in the eligibility criteria and skills, competencies and knowledge section of this job specification.
**Before applying please look at the information on our website about our research priorities, current projects and funding process.
Apply with CV and Cover Letter to careers@breakcancer.ie before August 4th.
Job Types: Full-time, Fixed term
Contract length: 12 months
Benefits:
Company pension
On-site parking
Schedule:
Education:
Language:
Work authorisation:
Work Location:
Hybrid remote in Western Road, Cork, Co. Cork
Application deadline: 04/08/2023
Expected start date: 31/08/2023
Donate Now