Just one in five women in Ireland confident of noticing a symptom of Ovarian Cancer.  
One in three mistakenly believe cervical screening checks for all gynaecological cancers. 
New research carried out in April 2023 amongst adult women, has highlighted that nearly 8 out of 10 women in Ireland are not confident they would notice a symptom of ovarian cancer. The study was commissioned by the Irish Network for Gynaecological Oncology (INGO) to mark World Ovarian Cancer Day.
Unfortunately, more than three quarters of patients with Ovarian Cancer are diagnosed when the disease is at a late stage. This is partly due to the vagueness of symptoms and the similarity with other conditions such as irritable bowel syndrome (IBS).
The INGO, which Breakthrough Cancer Research are part of, is a network of over thirty of Ireland's foremost gynaecological cancer campaigners, researchers and patient advocates who have come together to highlight BEAT – the symptoms of ovarian cancer.
The research conducted by Behaviour & Attitudes in April 2023 is the second annual study of the knowledge of ovarian cancer amongst women in Ireland. The research highlights that when it comes to recognising the warning signs and symptoms of ovarian cancer, women in Ireland have varying levels of knowledge.
The INGO are pleased to note that a significant proportion of women recognise two of the four main warning signs of ovarian cancer:
Four in five recognise that a persistent pain in the abdomen (80%) and/or a persistent pain in the pelvis (79%) could be a sign of ovarian cancer. 
Three in four recognise that persistent bloating (74%) or an increased abdominal size on most days (73%) could be a sign of ovarian cancer.
However, there is concern that most women did not recognise two other common symptoms of ovarian cancer:
Just one in two (51%) recognise that feeling persistently full and less than two in five (39%) recognise that difficulty eating on most days could be a sign of ovarian cancer.
Just under two in five (39%) recognise that passing urine more frequently than usual,  and one in two (49%) believe that changes in bowel habit, could be signs of ovarian cancer.
To mark World Ovarian Cancer Day on Monday 8th May 2023 the INGO has launched a campaign to raise awareness of the symptoms of ovarian cancer and encourage women to contact and explain their symptoms to their GP if they are worried, as early diagnosis can save lives.  The campaign emphasises the BEAT symptoms: 
Bloating that is persistent and doesn't come and go
Eating less and feeling full more quickly
Abdominal and pelvic pain you feel most days
Toilet changes in urination or bowel habits
The clear message is that if a woman experiences any of these symptoms for three weeks or more, she should contact her GP.
The campaign also seeks to dispel the myth that cervical screening detects ovarian cancer.  The research showed that while seven in ten women correctly know that the CervicalCheck Screening Programme assesses whether a woman is at risk of having cervical cancer, one in three women (34%) mistakenly believe that cervical screening checks for all five gynaecological cancers (ovarian, cervical, uterine, vulva and vaginal). It is important for women to understand that cervical screening only checks whether a woman is at risk of having cervical cancer and no other cancer type.
The research also found that women are confused about factors that can increase a woman's chance of developing ovarian cancer.
Close to three in five (57%) said it was unrelated to age
Less than a third of women (29%) believe genetics is a risk factor for ovarian cancer.
More than 8 out of every 10 cases of ovarian cancer occur in people aged 50 years and older, so people in this age group should be especially alert for symptoms of ovarian cancer.  All women are at risk of developing ovarian cancer regardless of age. However, the median age when diagnosed with ovarian cancer is age 65. This can be younger for those who carry a genetic predisposition or have a family history. It is important to communicate family history of cancer to your GP due to the increased risk of ovarian cancer.
Annually, approximately 400 women are diagnosed with ovarian cancer, and almost 300 women die from this disease in Ireland.  Ovarian cancer is the fourth leading cause of cancer death in women in Ireland, after lung, breast, and colorectal cancer.
There is no standard screening test to pick up ovarian cancer in women who don't have symptoms. We should all can be more symptom aware and talk to our GP without delay if we experience symptoms of ovarian cancer.
Early diagnosis can significantly improve survival – more than 8 out of 10 patients diagnosed with stage one ovarian cancer are alive five years after diagnosis compared to just 1 in 6 people diagnosed with stage four ovarian cancer.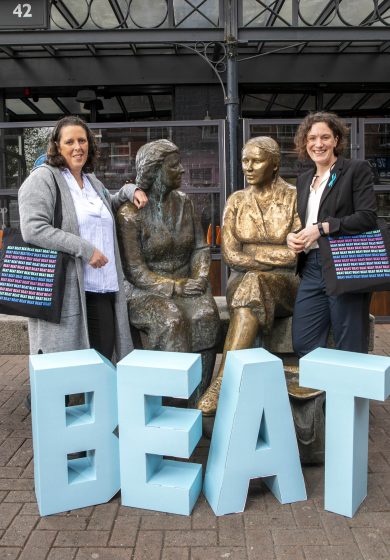 Karen Cadoo, Medical Oncologist and Cancer Geneticist in St James's Hospital said 'Approximately 20% of women diagnosed with ovarian cancer have a genetic reason for their cancer. This information can be important for their treatment for some women. It is also very important for their family members so that they can understand and reduce their ovarian cancer risk.'
Ovarian cancer patient, Deirdre O'Raw, said 'We all know our own bodies and if we notice any changes or anything unusual that lasts more than a few weeks then get it checked out.'
Dr. Sharon O'Toole, Senior Research Fellow in Trinity College Dublin and Coordinator of the World Ovarian Cancer Day campaign at INGO, said 'It is important to highlight that there is no screening for ovarian cancer and that cervical screening does not check for all gynaecological cancers.'
The campaign builds up to May 8th, World Ovarian Cancer Day, when 20 buildings across Ireland will light up in teal, the international campaign colour.
The INGO are delighted to have the support of Peter Marks and the Press Up hospitality group who will display specially designed BEAT stickers, kindly sponsored by CCL Label Ireland Ltd, outlining symptoms of ovarian cancer in all of their outlets. An Post have kindly contributed stamps to the campaign that will see hundreds of postcards delivered around Ireland to help spread the message.
As part of World Ovarian Cancer Day activities OvaCare, an ovarian cancer support charity will be hosting a coffee and chat event in the Ashling Hotel, Dublin from 11am to 1pm on Sat 13th May 2023. This is a free event and an opportunity for fellow patients to meet. For registration please visit https://ovacare.ie/events/event-registration/
Support 
OvaCare and East Galway and Midlands Cancer support are grateful for the support received from AstraZeneca, GlaxoSmithKline and MSD towards the World Ovarian Cancer Day campaign. The INGO acknowledges the support of Breakthrough Cancer Research who commissioned the research survey for the campaign.  The INGO are grateful for the support of the National Cancer Control Programme.
Spread the message using the hashtags #WOCD2023 #NOWOMANLEFTBEHIND 
Donate Now