How can we build in-vitro models of NSCLC that effectively mimic angiogenesis processes in humans?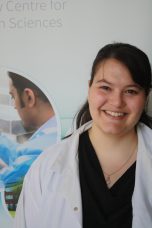 Daniella Anthea de Agrela Gomes
Daniella Anthea de Agrela Gomes, a Portuguese national from South Africa was awarded the Breakthrough PhD Scholarship 2022.  She will work with supervisors Prof Adriele Prina-Mello and Dr Dania Movia at the Trinity Translational Medicine Institute (TTMI), Trinity College Dublin (TCD). Her project will focus on advancing Lung Cancer (LC) research. LC is a cancer of high unmet clinical need, according to the World Health Organisation (WHO).
Non-small-cell lung cancer (NSCLC), is also one of the most common types of cancer in Ireland and is often diagnosed at advanced stages when the cancer has already begun to spread into other tissues. 70% of patients show poor or no response to therapy when lung cancer starts to spread. Daniella's research will focus on the improvement of the current understanding of abnormal angiogenesis in lung cancer (LC), a key contributor to the spreading of LC. Angiogenesis is the process by which new blood vessels form, allowing the delivery of oxygen and nutrients to the body's tissues. Angiogenesis is a vital function, required for growth and development as well as the healing of wounds. But it also plays an important role in the formation of cancer because, like any other body part, tumours need a blood supply to thrive and grow.
Daniella will investigate the role angiogenesis plays in chemoresistance, and how to therapeutically target it. Improving the understanding of the role of angiogenesis within LC progression and the response to therapies, will provide a real impact on the quality of life of people affected by LC.  The novel, New Approach Methodology (NAM) that she will develop, will provide a more predictive platform that will increase the chances of clinical success for those new treatments/drugs that succeed at the preclinical level. This multidisciplinary research project will benefit from the extensive biomedical and clinical expertise between TTMI, School of Medicine (TCD) and the Trinity St James's Cancer Institute.
Back
Start year

2022
End year

2025
Principal Investigator

Prof Adriele Prina Mello
Researcher

Daniella De Agrela Gomes
Institute

Trinity College Dublin
Grant Funding

Musgrave Breakthrough Cancer Research PhD Scholarship
Linked to Breakthrough Cancer Research Priorities

1, 3, 4