Investigating the Therapeutic and Prognostic Utility of Long Non-Coding RNA Targets and their Association with Tumour Microenvironment in KRAS-Mutant NSCLC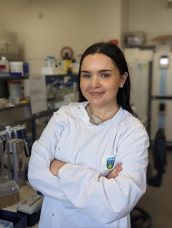 Clodagh Murphy
Non-small cell lung cancer (NSCLC) has a 5-year survival rate of 15%. Evidently, we must not only identify new therapies for these patients, but develop tools which indicate how a patient's tumour is likely to progress, allowing us to best utilise existing therapies.
This project investigates targets in the tumour that take the form of long non-coding (lnc)RNA. lncRNAs control the activity of proteins, which carry out specific functions in the human cell. However, some of the functions induced by lncRNAs may influence the progression of diseases, including cancer.
Firstly, RNA therapeutics, such as antisense oligonucleotides (ASOs), can target lncRNAs. Many ASOs are approved for use in rare diseases, and results from clinical trials in oncology are promising. Their imminent approval will revolutionise cancer treatment. Given the success of Prof. Johnson (Co-supervisor) in ASO development, this project is positioned at the forefront of this revolutionary field.
Secondly, a prognostic biomarker panel is a set of molecules, such as lncRNAs, that when identified in a patient's sample can indicate disease severity and aid determination of an optimal treatment regimen. Prof. Gallagher (Supervisor) has successfully developed a prognostic biomarker panel for breast cancer. Therefore, the host laboratory is well-versed in bringing such a panel from bench to bedside.
Finally, studies suggest a relationship between therapeutic targets and the immune system, which is our body's natural defence against diseases. This project investigates the relationship between the lncRNA targets and key players of the immune system. This can give insight into the disease mechanism.
"Despite being the leading cause of cancer-related deaths, less than 5% of European Oncology research is dedicated to lung cancer, an unbalance which is reflected in poor survival rates. We are committed to harnessing our own expertise and fostering collaboration with other research groups to successfully identify prognostic and therapeutic targets in non-small cell lung cancer (NSCLC), ultimately improving patient outcomes."
Back
Start year

2023
End year

2026
Principal Investigator

Prof. William Gallagher (Supervisor), Prof. Rory Johnson (Co-supervisor)
Scholar

Clodagh Murphy
Institution

University College Dublin
Grant

Musgrave PhD Scholar, In Association With Breakthrough
Linked To Research Priorities

1,2,4