Precision Oncology Ireland
2020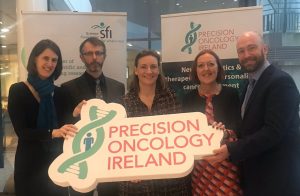 Precision Oncology Ireland (POI) is a consortium of five Irish Universities, six Irish Cancer Research Charities, including Breakthrough Cancer Research, and ten companies.
The aim of POI is to develop new diagnostics and therapeutics for the personalised treatment of cancer. Precision (or 'personalised') medicine uses data about a person's genes (genomics), along with additional information on their cancer, to understand the unique pathways of a disease or treatment response in that person. With this new science, doctors can prescribe the right treatment in a timely fashion, saving the wasted resources and time our current 'trial and error' method incurs, while greatly improving response rates.
POI is a €11.9 million research collaboration in the field of precision oncology, which is supported by the Science Foundation Ireland (SFI) Strategic Partnership Programme. The initiative is supported by a €5m Government investment through the SFI Strategic Partnership Programme, matched by a €6.9m investment from the Charity and Industry partners making up the Precision Oncology Ireland Consortium – the first time that researchers, charities and industry have combined forces in this way.
The full POI consortium is made up of 5 Irish Universities [University College Dublin, Trinity College Dublin, Royal College of Surgeons in Ireland, University College Cork and The National University of Ireland, Galway]; 6 Irish Charities [Breakthrough Cancer Research, Breast Cancer Ireland, Irish Cancer Society, National Breast Cancer Research Institute, National Children's Research Centre, and The Oesophageal Cancer Fund]; and 10 Industry partners [Helsinn Birex, Bayer Healthcare, AstraZeneca, Oncomark Ltd., miR Scientific, Phion Therapeutics, Celgene Institute for Translational Research Europe, Cell Stress Discoveries Ltd., Fosun Orinove, and Genome Medicine Ireland]. The Consortium is part-funded by Science Foundation Ireland under their Strategic Partnership Programme.
Back
Start year:

2020
Principal Investigator:

Dr Mark Tangney
Host Institution:

UCC, one of 5 universities in the consortium.
Linked Breakthrough Research Priorities:

1, 4, 5