To investigate the effects of endogenous ligands on Vitamin D receptor (VDR) translocation in oesophageal adenocarcinoma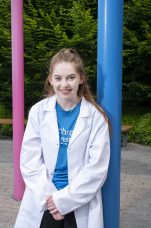 Approximately 500 people are annually diagnosed with oesophageal cancer in Ireland. Oesophageal cancer is cancer of the tube that connects the mouth to the stomach. If current projections in Ireland continue by 2045 annual cases of oesophageal cancer in men will increase by 115% in comparison to the figures seen in 2015 and a 109% increase in cases will be seen in women.
Oesophageal adenocarcinoma is the main type of oesophageal cancer seen in Western Europe. The research I will undertake under the supervision of Dr. John Mackrill will investigate the effects of products made by the body such as vitamin D on the effect of the Vitamin D receptor's movement in oesophageal cancer cells.
Calcitriol is the active form of Vitamin D; it acts as both a hormone and vitamin. It is involved in important processes such as bone formation, controlling the immune system, etc. Calcitriol implements its effects on the body through the vitamin D receptor. Monitoring the movement of the vitamin D receptor from the outside of a cell to the centre of a cell is one way of estimating the activation of the vitamin D receptor.
In oesophageal adenocarcinoma, an increase in vitamin D receptor protein expression can be observed. This may be a result of these products created by the body such as vitamin D. In this study, we hope to identify important products created by the body that activates the vitamin D receptor in oesophageal cancer cells. The significance of such findings would contribute to a better understanding of the causes of oesophageal cancer and aid in the development of therapeutic strategies.
Back
Start year

2022
End year

2022
Principal Investigator

Dr. John Mackrill
Scholar

Jessica Walsh
Institution

University College Cork
Grant

Summer Scholarship 2022
Linked To Research Priorities

1, 4