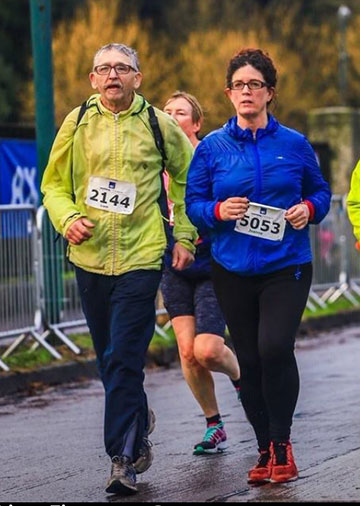 My name is Joanne Finnegan, and I want to tell you about my father, Liam, who died from uveal melanoma.
My father was a kind, gentle and generous man. Inchicore born and raised, he was always super fit and active.
He loved swimming and running and entered many marathons and triathlons over the years. He cycled daily from the family home in Clontarf into The Waldorf Barbers in the city centre, which he purchased in 1994 and restored to its original 1940s style.
Barbering to him was an art, a creative expression, and a craft he honed to absolute perfection. He led a revival of old school traditional barbering, and was known within the trade as the Godfather of Barbering.
He was proud to say he never refused a customer and treated each person with respect and appreciation. Many of his customers became good friends, with some of those friendships spanning up to forty years.
Liam was a great listener. He was genuinely interested in each person's own unique story. He was always in support of the underdog. When he died, it wasn't just his family that mourned him. Our entire community grieved his loss.
A type 1 diabetic since he was 12, Liam really looked after himself, both physically and mentally. He was as strong as a horse and had no other health issues, rarely even getting colds. In June 2015 at 69, he attended a routine eye appointment in the hospital when his ophthalmologist found a large tumour growing at the back of his beautiful brown eye.
An aggressive type of cancer.
I can't tell you what a shock it was when my mother told me the news. The word 'cancer' was actually never used. A tumour. Uveal melanoma. The tumour was too big for radiation to help. His eye had to be removed, only four weeks after his diagnosis. Psychologically, it was difficult for my father and the whole family to deal with, but at least we thought that would be the end of it.
But his cancer was an aggressive type. 50% of patients with uveal melanoma have a high risk of it spreading to other areas, so tissue samples were biopsied to try to determine the level of risk. Unfortunately, less than six months after his initial diagnosis the cancer had now been detected in his liver.
His oncologist put him on an immunotherapy treatment. That's when I started learning all I could about the therapies for uveal melanoma.
I found out that the drugs used to treat this cancer were the same ones used to treat skin melanoma. Only around 5% of uveal melanoma patients respond to those treatments.
My father was fortunate to be able to participate in a clinical trial of a new treatment in the UK. My mother, sister and I traveled with him to Southampton where he was given excellent care, receiving seven liver-directed treatments. This was successful and prolonged his life for almost three years. Three quality years too.
He spent most of those three years living as he had before the cancer. He jogged in and out of work, continued cutting hair and listening to his customers talk about their lives.
I'm incredibly grateful for those three years we had with him. And I know it was research that gave our family this precious time.
Because uveal melanoma is such a rare cancer, there's very little support out there for patients. So a small group of us started Ocular Melanoma Ireland, to support patients.
But as important as it is to be able to help people who are suffering right now, we also need to give people hope – hope that one day there will be a treatment that saves patients' lives.
That's why it means so much to me, and the uveal melanoma community, that Breakthrough Cancer Research is funding research right here in Ireland; research that kindness makes possible.
Meeting Breandán Kennedy and his team, I could hear their passion for finding a cure for uveal melanoma.
And I think you feel passionately about supporting research too. That's why I'm asking you, please, will you support Professor Kennedy's work today? You can give hope, and precious years, to people who will be diagnosed with uveal melanoma in the future.
After reading my story, I hope you'll decide to support Professor Breandán Kennedy and his team, who I had the pleasure of meeting. They are passionate and determined, and I believe they are the best hope we have of finding a cure for this rare but deadly cancer.